When it comes to the finest luxury jewellery, gemstones have been a coveted possession. Precious and semi-precious gemstones of the widest array are made available at the showrooms of Hazoorilal Jewellers in the most enchanting settings of jewellery in traditional and contemporary designs. Gemstone jewellery, however, needs the right care for it to shine and sparkle as bright as new.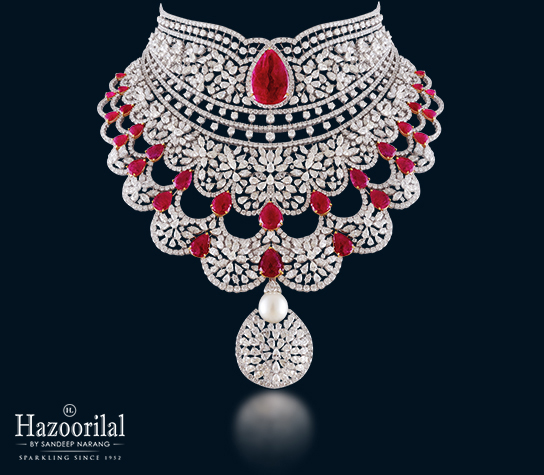 Read through our guide on how to care for gemstone jewellery the right way:
1.    Store it right: The most important part of taking care of your gemstone jewellery is to store it in the right manner. When you buy Hazoorilal gemstone jewellery, it will be provided in special felt or velvet lined boxes for protection and we recommend that you put the jewellery back in the same boxes after wearing them. Alternatively, you can place them wrapped in butter paper or a soft muslin cloth before placing them in a closed box. Avoid storing several pieces of jewellery in one box as the more delicate gemstones can be damaged by scratches.
2. Keep them free of dust and grime: The sparkle of gemstones studded in ornaments can be dulled by the accumulation of dust and sweat with regular use. It is therefore important that you clean them to remove the dust. When wearing your Hazoorilal gemstone jewellery for a special occasion, make sure that you keep the jewellery away from makeup and perfume.
3.     Clean them routinely: You can also keep your gemstone jewellery clean with a thorough cleaning at home. Use light soapy water and a soft brush to clean the gemstones in ornaments from Hazoorilal gemstone jewellers in Delhi. Rinse them properly and then wipe them dry with a soft cloth.
4. Opt for professional cleaning: Every once in a while, annually or once in a couple of years, get your gemstone jewellery cleaned by the experts with a professional cleaning by Hazoorilal Gemstone Jewellers. The jewellers will use professional methods to clean any grime and gunk to bring back the shine in the gemstones, which will keep them sparkling and shining in all their brilliance.
For the most exquisite gemstone jewellery in Delhi, head to the showrooms of Hazoorilal Jewellers, one of the leading jewellers in the city renowned for their bespoke luxury jewellery.